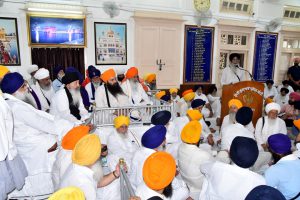 Joint committee of all Panthak parties, bodies to give next program for release of Sikh prisoners
Joint delegation to meet country's President, PM, HM & CMs of concerned states: S. Harjinder Singh
Panthak meeting appeal all Sikh MPs to raise voice for Sikh prisoners in country's Parliament
Amritsar, May 11:
During the Panthak meeting convened by Shiromani Gurdwara Parbandhak Committee (SGPC) for discussing and strategising the release of Sikh prisoners, all the jathebandis (organisations) and parties decided to start a united struggle. This meeting was convened at the SGPC's headquarters Teja Singh Samundri Hall, Sri Amritsar on the orders of Jathedar of Sri Akal Takht Sahib.
In the Panthak meeting, different religious, political and social organisations of the Sikh community while expressing unity also expressed commitment to the efforts to be made in future for the release of Sikh prisoners and pledged to play lead roles in this struggle.
During the meeting, three important resolutions were unanimously passed regarding the release of Sikh prisoners, including forming a joint committee, meeting the country's President, Prime Minister, Home Minister and Chief Ministers and Governors of different states and the bodies expressed consensus to start an intensified struggle if need be. Also, it has been resolved to appeal to all the Sikh members of Parliament (MPs) irrespective of their political parties to raise their voice for the Sikh prisoners in both the houses of the Parliament. The Sikh MPs have also been urged to take along all those MPs who are justice loving and speak for human rights.
During the meeting, SGPC President Advocate S. Harjinder Singh has been authorised to set up the joint committee which will give a future program, about which, he said that very soon a committee will be formed.
"The committee will include members from all the Panthak parties and bodies", said S. Harjinder Singh.
S. Harjinder Singh said that although different representative bodies of the Sikh Panth are making efforts for the release of Sikh prisoners, now the joint efforts will be carried forward under the leadership of Sri Akal Takht Sahib. "The governments have always committed excesses against the Sikhs and not releasing the Sikh prisoners who have served more than their punishments in the jails, is the height of excesses. The Sikh prisoners who are lodged in the jails have not fought their personal fight but they are in jails due to Qaumi (community's) struggle", said S. Harjinder Singh.
SGPC President said that the governments must understand that the steps taken by these Sikhs are the outcome of attack on the Gurdhams (shrines) of Sikhs and on the dignity of the community; therefore, the Sikh prisoners should be released without any condition and immediately.
During his address, Shiromani Akali Dal President S. Sukhbir Singh Badal said that the message of unity of this Panthak meeting is very important for the entire Sikh community and this movement shall constantly continue in future as well. S. Sukhbir Singh said that the political divisions are on one side while these collective efforts for the Panthak interests would yield great results. He said Shiromani Akali Dal will stand firm to fight every struggle on the instructions of the Panth.
Appreciating the efforts of SGPC, Shiromani Akali Dal Amritsar President S. Simranjit Singh Mann assured cooperation in the Panthak interests. He said this Panthak meeting held after a long time is historic in itself which will definitely yield good results.
On this occasion, head of Damdami Taksal Baba Harman Singh Khalsa said that the Sikh Panth should make concerted effort and take decisive measures.
In this Panthak meeting, those who addressed included head of Dal Baba Bidhi Chand Baba Avtar Singh Sursingh, Delhi Sikh Gurdwara Management Committee (DSGMC) President S. Harmeet Singh Kalka, former DSGMC President S. Paramjit Singh Sarna, S. Manjit Singh GK, Jathedar Baljit Singh Daduwal, Baba Naurang Singh from Tarna Dal, Baba Manmohan Singh Barn from Buddha Dal, S. Surinder Singh Kishanpura from Kendri Sri Guru Singh Sabha, S. Sarabjit Singh Chhina from Chief Khalsa Diwan, Bhai Balwant Singh Rajoana's sister Bibi Kamaldeep Kaur, Advocate S. Jasbir Singh Ghuman, S. Paramjit Singh Ghazi, Prof Prem Singh Chandumajra, SGPC junior vice-president Principal Surinder Singh, SGPC general secretary S. Karnail Singh Panjoli, federation leader S. Gurcharan Singh, Bhai Jung Singh from Bandi Singh Rihai Morcha, and expressed full commitment to the efforts to be made for the release of Sikh prisoners.
A large number of SGPC members, representatives of various Sikh bodies, SGPC officials and office-bearers were also present in the meeting.