Amritsar, March 20:
The Shiromani Gurdwara Parbandhak Committee (SGPC) has released an amount of about Rs 17.58 lakh for the school fees of Sikligar Sikh students studying in different areas of Chhattisgarh and Andhra Pradesh states.
This fee amount was handed over to the concerned schools by the SGPC office-bearers. Notably, the SGPC has decided to pay the school fees every year to make Sikligar Sikh children self-reliant. Accordingly, the fees for the academic year 2022-23 was released and sent on the instructions of SGPC President Harjinder Singh Dhami.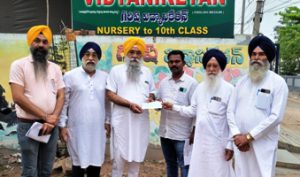 The delegation of SGPC which went to Chhattisgarh and Andhra Pradesh include Dharam Prachar Committee (DPC) member Sukhwarsh Singh Pannu, SGPC member Bhupinder Singh Bhalwan, in-charge of Sikh Mission Raipur Gurmeet Singh, Dilshah Singh Anand from Vishakhpatnam and Gurdwara inspector Mohandeep Singh included.
DPC member Sukhwarsh Singh Pannu said the SGPC went to different schools in Raipur, Chhattisgarh and Visakhapatnam, Kakinada and Rajahmundry in Andhra Pradesh and handed over the fees directly to the schools.
He said that as per the decision made by SGPC in the past, school fees for the entire year is deposited at one time by visiting, so that its proper use is ensured. He said that the purpose of paying the fees is to educate Sikligar Sikh children to make them self-reliant, so that they can have a proper livelihood in the future. Accordingly, it has been decided to spend on education.